You Can Organize It
All the Easy Way
Organize it all to reduce or eliminate stress, enjoy your family, save money, and gain some free time for you too!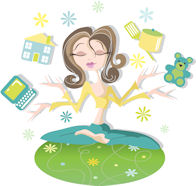 Busy moms and dads need help. I should know as a busy work at home mom of four, I'm always on the run. Trying to meet everyone's physical and emotional needs, let alone my own would be impossible if my life wasn't organized.
Life Organize It Allows You to Work Smarter, Not Harder, by Learning to Let Go of Your Perfectionism
You'll learn how to work smarter, not harder by setting priorities and truly learning to focus on what's important to you.

You'll be energized to stop procrastination in its tracks by letting go of your perfectionism. 

 Have you ever had the following thought?
"I don't have time to get it all done, why do it at all?
If you're anything like me, a perfectionist, doing it all can be overwhelming and then we'd just rather surf the internet, watch T.V., or whatever else to entertain us and keep us from getting stuff done.
For example, we think...
"Why clean the bathroom?  I don't have time to do a good job because I have to run and get my kids from soccer practice."
I have news for you, there is time to get it all done and find some time to relax and have fun with your family.  For instance, I bet you wash your hands several times a day, right?  Well, take 30 seconds or less after you're done and wipe down the mirror, faucet, and countertop.  Bathroom is half done, good.  Next day, you use the bathroom, spray the toilet down with disinfectant and wipe it up with toilet paper.  Toilet's now clean.  

You get the point.  Add little clean up and organizing jobs when you can and you'll be amazed at what you can get done.
| | |
| --- | --- |
| Would you like to get more tips to keep your home sparkling clean, organized, and save some money at the same time?  Who wouldn't?  Then please sign up for my monthly ezine below.  | |
I'll provide you with key strategies for you create simple organizational systems to get:
Your Home Organized. 
Your Closets Organized. 
Your Kitchen Organized and Clean.  
Your Bathroom Organized and Clean. 
The simple organizational tips I will provide you with will eventually become routine to you streamlining your daily life.

Remember that it doesn't have to be perfect, and it doesn't all have to be done now, well learn why prioritizing in life is so important too. 
Perfectionism can have a crippling effect on our organizing efforts leading us to be overwhelmed, and then just give up.
Keep it simple and use the organizational tips on this site to find systems of organization that work for you to organize it all and gain peace of mind, save some money, and bring order to your life.
You just need clean and functional organizational systems that work for you and your family.