Penny Pincher
Learn How to Recession Proof Your Finances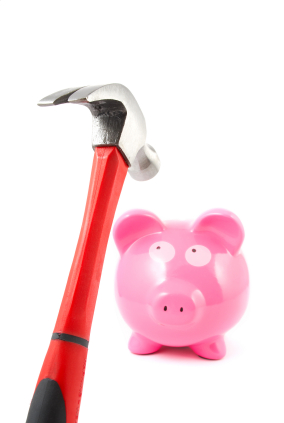 These penny pincher pages will show you how to deal with bills and debt and still have a life.
Our world runs on money and therefore holds a lot of power.
I look at money three different ways
It buys freedom. Freedom from the boss, bills, house payments, etc.
It offers security. If there's money in the bank, you know your bills will be paid and there will be food on the table.
It's said that money can't buy happiness. But, it sure can buy your way out of financial misery and if you're a happy person to begin with, money is icing on the cake.
So, how do we become a penny pincher and learn to manage our money? Especially during these uncertain economic times.
First you'll need to learn How to Make a Budget.
All penny pinchers know what's going on with their money, and so should you. In other words, it's important to know how much is coming in and how much is going out.
Learning how to make a budget is simple and will help you get a better understanding of your money by giving you a big picture view of just how much you're spending, and on what, and hopefully saving.
Having a simple and flexible budget is a golden opportunity to be in control of your money.
Okay, so now you've got a budget, but you need to know how to manage your money. Money Management Tips will give you excellent penny pincher tips on how to really be in control of your money.
For instance, you'll learn simple strategies that I used when I was a single mom that didn't make much money... Like how to make it to the end of the month with money left over.
No one needs the added stress that having debt carries. Debt Management Tips will help get your debt under control and paid off so you can live a debt free life.
Once you're debt free, stay that way... Don't take on any more car payments. Once your car is paid off, drive it for as long as possible because being debt free is the best and quickest way to obtain wealth! Read this article for a car maintenace schedule and checklist that will keep you car running in top shape for many years to come.
No more late fees! No more bounced checks! Bill Organizer will get you there in simple to follow steps. Just think, paying bills will be a breeze and they'll be paid on time once you learn how to organize your bills.
Got kids? Then you've got bills and lots of them! Whether it's a surprise visit to the emergency room, a gift for a friend's birthday party, or money for new soccer gear, when you have kids it means money is going out the door.
But, you can cut down spending on kids by using Tightwad Tips to Raising Kids on those expenses that you can control.
Kids and Money offers a common sense penny pincher approach to saving for your child's future without altering your financial future! All this in three simple steps.
Learn how I beautifully furnished my whole home cheaply. Check out Cheap Home Furniture for excellent penny pincher tips that will teach you easy and fun ways to decorate your whole home.
This is definitely the way to decorate, unless you've got the money to have a decorator on payroll.
Cut your food bill painlessly with Frugal Grocery Shopping. You'll find tips to help cut your food bill and still eat healthy at the same time.
Healthy Eating on a Budget allows your kids to not rely on the television to tell them what to eat. You'll continue to cut that food bill while eating healthy at the same time. Your kids will get into the healthy eating groove too!
Budget Meals is a collection of recipes that are not only budget friendly, they're healthy too. A lot of these recipes are 'old time favorites' that have been adapted for today's healthy eating styles. Many of these serve four, so plan on more or less depending on your individual needs.
Saving Money with Coupons will show you easy ways to save money using a variety of sources to obtain coupons.
A Grocery Coupon Organizer is just what's needed to keep all of your grocery coupons neat and orderly to save you money.
If you dread tax time, then you need to check out Income Tax Records. You'll learn how to effortlessly organize your tax documents all year long so, when tax time rolls around, you'll have everything you need and won't be stressed and frustrated.
It's important to keep an emergency fund of three to six month's living expenses in the bank and Strategies to Save Money will show you how to do just that. No, it's not an effortless, or painless process to save money, but these money saving tips will show you that having an emergency fund is not out of your reach. 
By reading these pages you'll learn how to become a penny pincher, save money, live within a budget, and love frugal living.
Would you like to receive more great money saving tips and learn how to organize and prioritize your whole life too? Great! Just fill out the form provided below to subscribe to Organize It Mom! It's the free monthly organizing magazine delivered straight to your e-mail.
Soon you'll be on your way to receiving valuable info that will save you time and money so you can...

Learn simple ways to be debt free
Build a savings "emergency fund"
Earn an extra income
Be stress free
Take time to care for yourself
Create your best life ever!


Return from Penny Pincher to Life Organize It