The Organized Home
Clear the Clutter and
Organize Every Room in
Your Home - Closets too!
Learn super easy home organization tips that will organize your home in no time.
If you're looking to organize your whole house or just one room, you've come to the right place.

Having an organized home is easy as following these four steps:
Remember the purpose of the space you're organizing and organize for that purpose.
Declutter - get rid of the extra stuff.
Categorize what's left over.
Organize it - create a space for everything.
K.I.S.S. - use these four steps for any organizing project to keep it all simple... Life itself is too complicated, don't over complicate getting organized!

Clearing out the clutter and getting an organized home can be hard for some, so as you work on clearing clutter, ask yourself these four simple questions:
Do I want this?
Do I need this?
Do I use this?
Do I love this?
If you have pack rat tendencies and answered yes to any of these questions, then ask yourself why you answered that way. Be brutally honest with yourself, or you will never break the clutter habit.
One way to stop pack rat tendencies is to find a non-pack rat to help you clear out the clutter. Have the non-pack rat in your life ask you the tough decluttering questions to help organize your home.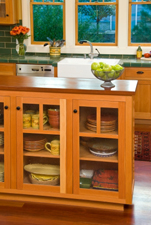 Break big projects down using a timer. A timer is an excellent way to dig in and get your home organized. Just set a timer for 30 minutes a day and work fast as you can. When the timer goes off, you know you're done for the day.
Breaking big organization projects down using a timer, not only sets a work schedule in place, it also provides instant boosts to your motivation by finishing tasks ever day.
You'll be amazed at how much you can get done by using the clock to challenge yourself.
After you get your home organized using the easy steps provided in the articles below, simple maintenance is all that is required to keep it up!
---
An Organized Home Room by Room
Living Room and Family Room Organization
---
Kitchen Organization Tips
Organize Cookbooks and Recipes
---
Closet Storage Ideas for Every Closet!
closet-storage-ideas.htmlCloset Storage Ideas
bedroom-closet-organization.htmlBedroom Closet Organization
coat-closet.htmlCoat-Entryway Closet
kids-closet.htmlKid's Closet
linen-closet-organizers.htmlLinen Closets
Short on space? Don't let lack of space hinder your organizing efforts. If you're having trouble finding enough storage space in your home, you'll definitely want to check out this excellent book from Black & Decker. This book will show you how to find hidden storage space in and around your home. In it you'll find systems of organization that will address all of your storage problems.
---
An Organized Home on the Move
Are you planning on moving into a new home? Here are some articles that offer great tips to help make the moving experience as stress-free as possible.
Moving Labor Services - will show you how to plan a move, hire the right moving labor services, and how to plan a 'do it yourself' move.
Moving Planner and Budget - provides an excellent time-line to help plan your next move every step of the way... From what to do when moving out of your old home, to what's needed to get your new home move-in ready. An easy to use budget is also included to help financially plan the moving process too.
Moving Tips Checklist - is an extensive, yet simple to use must-have checklist for a hassle free moving experience.
Packing Moving Supply Needs - provides all the packing moving supplies you'll need to ensure the safety of your items during a move. A handy estimator of what your moving supply needs will be based on the number of rooms in your home is also included.
---
Where would you like to go next?
Now that your home is all clean and organized, learn how to keep it clean the easy way with these House Cleaning Tips.

---
Return from The Organized Home to Life Organize It