Organize Cookbooks and Recipes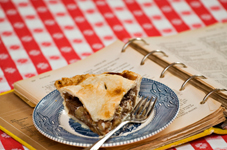 I love cookbooks and collect old family recipes and recipes that run in the newspaper. I've learned how to organize recipes and cookbooks so that I get the maximum use out of them. So, read on and learn how I did it.
To organize cookbooks, designate a space in your library or on a shelf in another room for cookbooks and recipes. It's best to keep these away from food prep areas to keep them clean.
I'm fortunate to have an antique secretary desk with a glass door that to keep cookbooks behind. I have cookbooks that belonged to my grandmother and remember her using. I enjoy looking at them everyday behind the glass and know they are protected.
If you really want to continue your quest for kitchen organization and weed out your cookbook collection, then sort through them and decide what stays and what goes. Donate the cookbooks that are slated to go to a local thrift store or give them to a friend or relative to enjoy.
Categorize the cookbooks you are going to keep into frequent and seldom use. Store all the seldom used cookbooks on either a high or low shelf. Store all the frequent use cookbooks at eye level for quick access.
I like to use page markers in my frequent use cookbooks to mark off recipes that I refer to often. You can buy page markers at a stationary store or just use post it notes. This way I can flip right to the recipe. I don't waste time looking up the recipe in the index, then flipping through the cookbook to find the recipe.
Store those recipes you've cut out of the newspaper or magazines by making your own cookbooks. First you'll have to sort through the pile of recipes and keep or toss. For those you keep, you can put in plastic sleeves in a three ring binder or tape to a spiral notebook. If you have time and are super organized, type the recipes out on the computer and put in a binder.
These ideas definitely beat sifting through a tiny recipe card box for thirty minutes trying to find a favorite recipe.


Return from Organize Cookbooks to the Organized Home
Return from Organize Cookbooks to Life Organize It