Entryway Storage
Clear the Clutter and Organize the Stuff
Entryway storage is critical to home organization. This space in our homes is one of the most important, but often overlooked spaces. It's where your family comes and goes and dumps their stuff.
Depending on how you handle it, the entryway can either make or break your home organization efforts.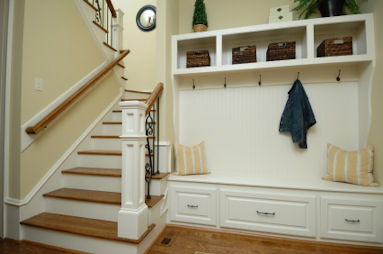 Good storage in this space is needed because it can quickly become the dumping ground of the home. Kids dump backpacks, shoes, jackets. Adults dump keys, purses, papers, bills, etc. who wants to come home and be greeted by a cluttered pile?
But, before you begin organizing this space, you will need to ask yourself the following questions
What kind of space do I have?
What needs to go in that space?
Do I need to clear it all out for a declutter? (sometimes it's easier to just move it all out to sift through it).
Then once you declutter, you'll need to organize what's left and create a space for everything.
Create a space for everything is the fun part. It's where you can utilize entryway storage to its fullest potential.
If you have space in your entryway, then GREAT! Install cubbies for each kid to stash backpacks and shoes. Install hooks for sweaters and coats.
Entryway lockers are another great entryway storage option for kids. They can hang up their backpacks, hats, sweaters, and coats and put their sports equipment in them too.
When using hanging entryway storage for kids, be sure to get down on your child's level and keep these items at their height so they can hang their own stuff.
If there's a door in this room, utilize the space behind the door and hang a clear plastic shoe bag with pockets for miscellaneous items such as gloves, winter hats, flip flops, etc.
Entryway storage benches with lids are good storage options and you can sit on them to put your shoes on before you head out the door. Just be careful as they can become clutter magnets if your family begins to toss things in them.
Organize Fido. Get the pet food off the floor. Roll up and secure the bag or buy plastic bins you can store in a cabinet. Pet stores also carry bins that can be hung from the wall if you have the space.
Install hooks to hang leashes and collars.
Place all grooming supplies and medicines in a plastic bucket or container and store away up in a cabinet.
I don't have much space in entryway, but I do stash outgoing mail and important papers that I need quick access to in a mail organizer made up of hanging bins along with a cork board to pin notes to. Hooks on the hanging bins are for keys. I also keep a white board calendar which, is a master planner for the family that includes doctor's appointments, kid's test dates, sporting events, and my husband's crazy work schedule.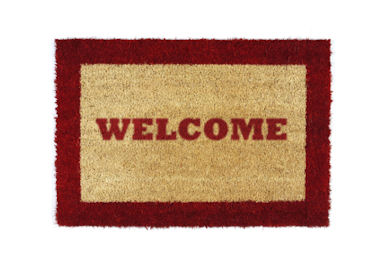 My husband was forever losing his keys and wallet, so I gave him a couple of nice looking wood boxes that he can throw these into.
Since I'm short on space for entryway storage space, I moved my kid's storage for backpacks and shoes outside. I installed cubbies in the garage with their names on them. At night they take their backpacks and whatever else they need for the next day to their cubby. They can then grab their stuff and go before we get in the car in the morning.
If you come and go through your main entryway, dress up your organization a bit.
If you hang entryway organizers for bills and keys for storage, then put a nice decorative screen in front to conceal them.
You can also use a stylish dresser to conceal bills in a drawer while keeping them organized.
Put out a pretty basket to stash the newspaper in along with a few magazines.
Set out a nice serving tray on top of the dresser to act as a beautiful catch all as you walk through the door.
Keep your entryway storage simple by keeping only what is needed in that space. Regardless of your space, look at what you have to work with both in terms of stuff and space. Remember to keep an open mind and be creative and you will come up with ways to stash stuff that is functional, stylish, and organized for your family's lifestyle.
Return from Entryway Storage Organization to The Organized Home
Return to Life Organize It Home