Baby Nursery Ideas
That Grow With Your Baby
It can be tough to come up with baby nursery ideas. Here are a few suggestions for a simple yet appealing nursery set up that will grow with your child:
Choose the bedding first, and design your theme around it
Use subtle, inviting wall colors
Consider a hand painted, stenciled, wall papered, or wall decal mural
Choose furniture to grow with your child
Set up the room for maximum comfort and function
Coming up with baby nursery ideas can be a challenge. You want to choose a soothing design that's pleasing to your little one, yet you also want something practical that will grow with your child. Not to worry, there is no shortage of options for creating great nursery set ups that you can easily modify as your child gets older.
First, choose your bedding color or theme and design the furniture and color scheme of the room around it. Woods and forest scenes complement earth tones very well, and create a warm, comforting environment. Or keep things light and airy with whimsical, subtle pastels. Use the bedding to serve as a focal point, and keep wall colors soft and neutral. This will allow you greater flexibility to change the design of the room later on.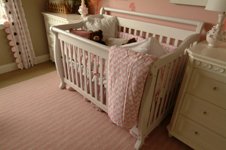 Paint is one of the easiest things to change in a room design, but if you don't want to have to paint often, it's best to choose neutral or subtle colors and use other design features to bring the room to life. A mural is a great way to do this. You can hire a muralist if your budget allows, do it yourself with stencils, use peel-and-stick wall paper cut outs, or use removable wall decals. Wall decals are a particularly good choice, because they can be easily removed without damaging the walls and come in a variety of designs from simple to intricate.
When considering baby nursery ideas, don't overlook the importance of both comfort and function. Whether the nursery is carpeted or a bare floor, an area rug is a good idea. It not only creates a cozy atmosphere, but it also protects the floor beneath from becoming worn and soiled. You'll also want to have a comfy rocking chair for middle-of-the night feedings, or just holding and rocking your baby.
Make sure to organize the space effectively. For example, store diapering supplies on shelves above or beneath the changing table, and keep the diaper pail nearby. Clothing storage shouldn't be far away, since you'll likely change your baby's clothes there too. Make sure you have everything you need for a given task within arm's reach. You may also want to keep a nursing pillow, glass of water, and reading materials near the rocking chair for feeding time.
Make sure the furniture you choose meets all applicable safety standards. You can also save money by buying furniture that will grow with your child, like a crib that converts first to a toddler bed, then to a twin or full headboard later on. Be careful though, if your kids like to chew like mine, you'll want to find a design that can cleverly hide teeth marks and use a non-toxic paint to cover up after they're through their chewing stage.
Your goal in exploring baby nursery ideas should be to create a space that's visually appealing, comfortable, and practical. Fortunately, there are simple and inexpensive ways to achieve this. By choosing a decorating scheme and nursery furniture that will grow with your child, you'll be saving a significant amount of time, money, and hassle.
If you like this page, then check out Cheap Home Furniture. for more great ways to furnish and decorate your baby's nursery at a reasonable cost.
Return from Baby Nursery Ideas to Newborn Baby Care
Return to Life Organize It Home Page