How to Manage Your
Beauty Routine to Look
and Feel Your Best
Even busy moms need to take some time to look and feel great. Make it a priority to take time for yourself, and manage your beauty routine by:
Establishing a night time routine
Getting enough sleep
Eating and drinking naturally
Caring properly for your skin
Devoting attention to your hair care routine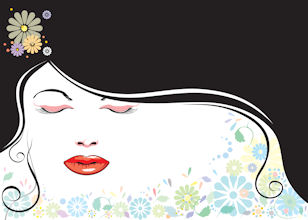 Many busy moms feel like it's almost impossible to take time for themselves. The kids' needs always come first, which means that your beauty routine often gets put on the backburner. Chances are it's been so long since you've had a hair appointment that you don't even remember when it was, and the last time you had a manicure was long before the baby was born.
Even though we love our kids and do our best to provide for all of their needs, it's important for moms to take some time for themselves too. You don't have to be the queen of frump just because you have kids.
So, how can you get back to your former routine of beauty when it seems you hardly have time to shower and brush your teeth? You'll need to seek a compromise that lets you build your beauty routine into your busy life. Here are some of the most important things that you can do to make this happen:
Establish your bedtime routine. Bedtime routines aren't just important for kids; they're important for you too! No matter how tired you may be after a long day of work (whether outside or inside the home, or both), it's important to remove your makeup and wash your face every night. It only takes a few minutes, but this will let your skin relax during the night and help you avoid looking older than your age.
Get enough sleep. No doubt your family and your job are important to you, as well they should be. But you matter too, and you need to take care of yourself in order to function well and get all of your important tasks done each day. Sleep is also vital to your beauty routine. You should aim for 7 to 9 hours of sleep each night to give your body a chance to recover from the stress of the day. Try to establish 11 p.m. to 8 a.m. as your time to sleep, recover, and rejuvenate. If you have to get up earlier than this, then adjust your evening bedtime accordingly.
Eat and drink natural foods. It can be tough to eat for optimal health and beauty when you're always on the go, but eating and drinking naturally pays big dividends. Avoid cheap fast food, and stick to natural products that will help you stay energetic and youthful, instead of dragging you down. Try starting your morning with a cup of antioxidant-rich green tea. It's quick and cheap, and your health and looks will thank you for it.

For a great way to take care of both your skin and body, check out Dr. Perricone's selection of books to the right on anti-aging and antioxidant rich foods.

Don't neglect your skin. Even if your routine doesn't allow time for frequent professional skin treatments, you can establish your own skin care routine at home. A good cleanser and moisturizer can help protect your skin from premature aging and improve its elasticity.

I like to use a CLARISONIC Skin Care Brush + 2 oz Cleanser to cleanse my skin twice a day. It exfoliates and completely removes my makeup so I know my skin is clean.

Take care of your hair. Remember that your hair says a lot about you. Make sure to trim it often to avoid frizz and split ends. Change your style every now and then to spice up your beauty routine with some high or low lights to brighten your look. If you color your hair, be sure to touch it up at least every month or two.

If you are feeling down about the way you look, this can drag down your energy levels and make it harder to get through the day. In contrast, paying attention to your beauty routine will help you look and feel great, and keep you at the top of your game. If you implement these tips, you'll soon discover that a good beauty routine can work wonders for your motivation and outlook on life!

Return from Beauty Routine to Health and Beauty Tips
Return to Life Organize It Home Page