Bedroom Closet Organization
Organizing the closets in our bedrooms can be one of the hardest organizational projects to accomplish. It's hard because the closets in our bedrooms get a lot of daily use and if left unchecked, clothes storage can get out of hand quickly.
In addition, most of us have a few different sizes of clothes and items we purchased on sale, but never wear all jumbled together.
All of this can add up to one big mess! Bedroom closet organization calls for an excellent system of organization that can withstand daily use while being functional and able to store all this stuff.
We ask a lot of our closets, so let's put them to work for us and start organizing!
First off if your bedroom closet is an unruly mess, you will need to unload the whole thing and clean it. Hit the cobwebs on the ceiling and corners, dust off shelves, and vacuum the floor.
Now you're ready to start your bedroom closet organization. First step, decluttering…remember, be ruthless!
Step One - Declutter
Get rid of anything that does not fit. Don't waste time or space hoping to get down to a certain size. Enjoy life and wear clothes that fit now.
Every time you buy an item, something has to go. If you buy a new shirt, dump or donate a shirt.
Get rid of anything that doesn't make you feel and look great. Clothes that are too tight, uncomfortable, and ill fitting make us feel bad and sloppy.
Remove out of season clothes from your bedroom closet and store in another location such as under the bed or in a hanging clothes storage bag. Remember to properly protect wool and cashmere items with cedar chips.

(Quick tip…a cheap way to protect your clothes from infestation is to buy cedar pet bedding at a pet store. Stuff your old pantyhose, stockings, or trouser socks with these chips and hang in your closet. You can also place these in drawers. You will need to replace the cedar chips every month or so.)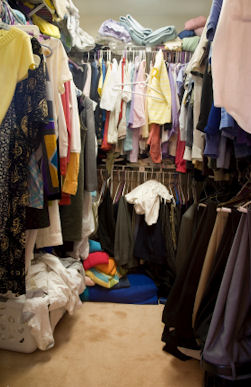 Get rid of anything you haven't worn in a year.



If you can't bear to part with an item, then try this trick. After you've purged all you can purge from your closet, place the keeper items back in your bedroom closet with the hangers backwards. As you wear clothes, hang them forward. At the end of six months to a year, go through your closet and everything that is still hanging backwards has not been worn...it's now time to part with them.
Make a pile of anything that needs to go to the tailor for altering, a missing button, or a rip sewn and make it a goal to take care of this by the end of the week.
Step Two - Design your bedroom closet space
First, scrutinize your clothes storage space. The most inefficient use of bedroom closet space is a single rod with a shelf up above.

Take inventory of your clothes and shoes and design a space around that. For instance, if you have a lot of shirts, then buy a double hang closet rod to double your shirt hanging space. For shelving, you can purchase inexpensive racks to stack and fold clothes neatly.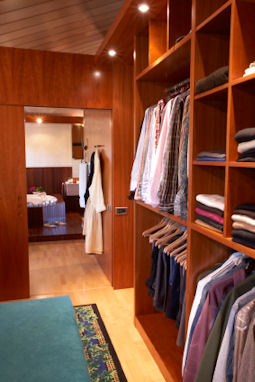 Check out the Container Store and look at the elfa bedroom closet organizers. Provide them with the dimensions of your bedroom closet along with your storage needs, they will custom design a closet organizer for your needs.
I had to fit clothes and toys for three kids in one closet, so I contacted the Container Store for their bedroom closet organization systems and it worked out beautifully.
Shoes
The best shoe storage I've found are clear plastic shoe boxes that I label with what's inside. Categorize your shoes by season and usage. Store frequently worn pairs front and center for easy access. Stack the clear shoe boxes on shelves, the floor, or best yet, a rolling cart.

Step Three - Categorize items
To make getting dressed in the morning a snap, hang like items together and categorize by color. For example, hang all shirts together, then organize by color.
Purchase tie hangers to sort and organize ties... same goes for belts. Remember to purge these items getting rid of stained and worn out ties every so often.
To save space for hanging clothes, use the following bedroom closet organization tips
Use the same type of hangers
Hang shirts and jackets the same way (you may not believe it, but this does save space)
Hang pants from clear plastic skirt hangers
If you have a walk-in clothes closet, then store your underwear in there too. This way you can go into the closet in the morning and emerge fully dressed.
If you have the luxury of an extra bedroom in your home, then turn the whole thing into a walk in closet! Install shelving and closet rods along the walls of the room. Place a sitting chair in there to put your shoes on and a mirror to check yourself before you leave.
Remember to look around your home to see what can be used to organize your clothes closet cheaply. Do you have an unused bookcase in storage? Great, pull it out and place it in the closet to fold and stack t-shirts on. Your options are as limited as your imagination.
These bedroom closet organization tips have worked for me to bring sanity and order to my bedroom closet and I know they will work for you too.
Return from Bedroom Closet Organization to Organized Home
Return to Life Organize It Home Page