The Busy Woman's Guide to Current Fashion Trends
Even busy women can keep up with current fashion trends.
Here's how:
Adapt trendy styles for comfort
Keep your wardrobe simple
Choose pieces that mix and match
Accessorize to add some pizzazz
Use makeup in trendy colors to complete your look
Fashion rule number one is to look great, whatever age you are. But the second, and perhaps most important rule of fashion, is to pick clothes that make you look wonderful and are comfortable to wear regardless of current fashion trends.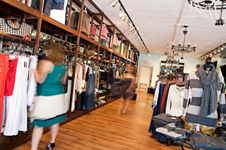 As a busy woman, you don't want to put on uncomfortable, constricting clothing that makes it harder to live your busy life. No woman wants to wear killer shoes, skirts so tight that it's hard to maneuver, and tops so revealing they'd make even a playmate feel self conscious. Not to worry, because keeping up with fashion trends isn't about stuffing yourself into clothes designed for pop starlets. Instead, it's about finding the style that suits you best.
You can spot current fashion trends in every shop window. You can hardly avoid seeing what is "in," since that's about all that's on display these days. While fashion trends can provide a general guideline for what to wear, they don't tell you what clothes suit you best and how to mix and match them for maximum effect.
Fortunately, there are some things about good fashion that never change. By building your wardrobe on a few key items that can be dressed up or down along with several basics, you can create a closet full of versatile and comfortable clothing to keep you looking and feeling great for any occasion.
Here are four excellent books that teach you the basics of how to look fabulous no matter how old or young you are. I especially love Charla Krupp's book "How Not To Look Old". It's my 'go to' book when I need fashion and beauty advice that keeps my look current...not too old and certainly not too young.
And, here are some tips for how to adapt current fashion trends for your personal style and comfort:
Comfortable shoes don't have to be frumpy. You don't have to wear nurse's shoes to have comfy feet, and fortunately, flats are in. This means you won't have to kill yourself with 4 inch heels to be in style. Choose flats in basic colors like brown and black to match your wardrobe. Or grab a pair or two in colors to match a favorite outfit. You can even add clip-on accessories like flowers and jewels to dress them up.
Jeans are always in. Stretch jeans are comfy, and they're just as great for around the house as they are for a trip to the grocery store. For a casual evening event, they can even be dressed up with accessories and a stylish tunic-length top.
Keep it basic. Simple colors and styles that mix and match well will provide the greatest versatility. But basic doesn't have to mean plain. Dress up your solid colors and basic styles with scarves, hats, jewelry, and other accessories.
Dress for your age and style. Sure you're arms are toned and look fabulous, but at 45, that lace cami with jeans can make us look like a... 'case of arrested youth'. Not quite what we are going for. But, you can keep that lace cami, just pair it with a trendy cardigan, one that's a little longer than normal and cut to drape in a way that flatters.



Pay attention to your shape too. If you're short, like me, then you'll want to stay away from funky prints, that make us look bigger and shorter than we are. Pair outfits in colors that elongate the body, like a pair of black pants with black sandals or boots... you get the picture. Stick to clothes that gently hug the body showing off curves rather than hiding them in boxy baggy clothes that make us look bigger than we really are.

A little makeup and a great hairstyle can complete the look. Subtle makeup to highlight your best features can accent current fashion trends. Take a look at what colors are popular this season, and design a palette around those colors that looks great with your skin and hair color.



Keep your hair healthy and up to date with new cuts and colors along with deep conditioning treatments.

Jewelry. A few good quality pieces every woman should have are a good quality watch, hoop earrings, diamond stud earrings, a pearl necklace, and gold bracelets. Of course if you can't afford diamonds and pearls, then substitute with quality looking fakes, but you get the picture of how these key pieces form the basis of a good jewelry wardrobe that's versatile.
With a little creativity, keeping up with current fashion trends doesn't have to be hard. All you need to do is take a look at what's popular, and adapt it to suit your needs.
Return from Current Fashion Trends to Health and Beauty Tips
Return to Life Organize It Home Page