Quick and Easy Easter Dinner Recipes & Easter Dessert Recipes
Traditionally, Easter is not only a celebration of the resurrection of Christ, but also of the coming of Springtime. Here in California Springtime brings to mind fresh new flowers sprouting up through the earth, beautiful green grass, and brand new baby animals in the pasture. Your Easter meal should reflect all that is new in the season of Spring.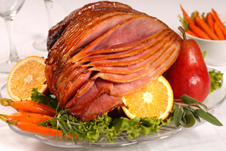 To get in the Springtime mood, volunteer to host Easter brunch or dinner for your family this year. These traditional Easter dinner recipes are so simple, everyone will think you spent all day in the kitchen.
Below is a traditional Southern menu that my grandma would serve that I have adapted with consideration to what items are fresh and readily available, while including items that simplify meal prep. This is after all a holiday to be spent with the family, rather than slaving in the kitchen all day as grandma did.
You'll want to include a salad made up of simple pre-cut and pre-mixed bags of veggies and greens to save time and money. By the time you bought all of the separate greens, you would spend a lot more. Just be sure to choose one of the better brands for the best flavor and if possible, buy organic. Organic greens are more nutritious and tend to taste better. Include a refrigerated ranch dressing with some croutons, walnuts, and raisins or cranberries and the salad is done.
Also included in this menu is sweet potato casserole (one of my favorites), ham spiked with a Jack Daniel's sauce, deviled eggs, green bean casserole, glazed baby carrots, and a simple shortcake for dessert.
This menu will allow you to take time to enjoy your family and be the best host too!
Return from Easter Dinner Recipes to Easy Entertaining
Return to Life Organize It Home Page