Easter Gift Ideas
Keep the Kids Busy During Spring Break with Fun Crafts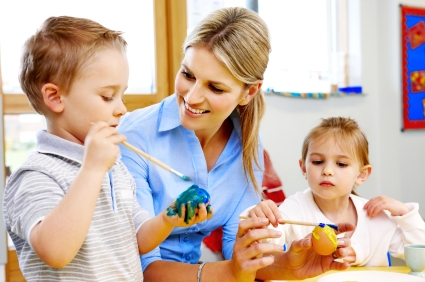 The right Easter gift ideas for your children depend on their ages. Kids like "to do" things and be kept busy otherwise they get bored. Kid's Easter crafts are the perfect way to keep your kids busy during Spring break. As they get older, it helps to let them think up or pick out their own kid's Easter crafts. You can take them to a craft or hobby store and let them pick out the materials. Stores like Michael's display an example of the completed craft. So, if they can't come up with their own ideas, a trip down the aisle should help them spot something.
Kid's Easter crafts are usually relatively inexpensive. They can make gifts for their grandparents and other family members. If they like to decorate eggs, you can let them start earlier in the week. Just make sure to keep the eggs refrigerated as older children can sometimes spend a whole week painting eggs. That can keep kids busy when the weather is nasty outside and there's usually a lot of rain this time of year.
If you are planning a big Easter dinner at your house, use kid's Easter crafts to decorate the Easter dinner table. The younger kids can make and decorate place mats out of construction paper and older children can decorate napkins. Patterns and plain cloth napkins are available at arts and craft stores. You can also find cheap plain cloth napkins at discount department stores too.
All it takes is some magic markers and you have a functional work of art. Some of the markers are designed specifically for these kinds of Easter gift ideas. The patterns won't disappear when you toss them in the washer. So, you can use them year after year.
To save money and have some fun, buy plain baskets. You can usually find them for really cheap. I just found some plain baskets for less than a dollar each at a local thrift store. Then let your children paint and decorate them. They can glue on cut outs, glitter or other decorations. Their choices are only limited by their imagination. These baskets will become keepsakes as time goes by.
They make great Easter gift ideas for grandparents too. Have your children glue their pictures to the front of the baskets. Then fill them with crinkled strips of construction paper, rather than the plastic artificial grass that makes such a mess and doesn't look as nice. Choose tiny gifts for them to make and include a few colored or decorated eggs. You can find patterns for egg holders online. Print them on heavy paper and let smaller children color them. All of these handmade items will be cherished year after year.
One of my favorite Easter gift ideas are photo frames that kids can make themselves. Here's what you'll need: a few pieces of construction paper, a piece of cardboard either 8x11 or 5x7 (depends on the size of the picture), paste or glue, and a picture of your child.
To start, have your child rip up the construction paper into pieces (they'll love doing this). While they are ripping away at the construction paper, you'll take a piece of cardboard and cut out a square in the middle the size of your child's picture. When your child has the construction paper ripped up, have them glue the pieces to the front of the cardboard frame you just made in a collage type pattern and let the glue dry. Once the glue is dry, you'll come back and glue your child's picture to the back of the frame.
This is one of the easiest and inexpensive Easter gift ideas for you to do with your child.
Jelly bean bag bunnies are another easy and inexpensive kid's Easter craft. They can make these for their family and friends and use them to decorate the Easter dinner table too. Here's what you'll need: a small bunny pattern (you can find these online, or cut out from a coloring book, or even a greeting card), small resealable snack bags, and of course jelly beans.
Fill the bags with jelly beans. Once you have your small bunny patterns, kids can simply cut them out and color if necessary, then attach them to the small bag of jelly beans using tape. It's one of the best no-mess Easter gift ideas that's also very inexpensive.
If you use your imagination, you can keep the kids busy and save money too this Easter season.
Return from Easter Gift Ideas to Easy Entertaining
Return to Life Organize It Home Page