Simple and Fantastic
Eye Makeup Tips
It's not as tough as you might think to have fabulous eyes. To achieve the look you want, use these simple eye makeup tips:
Create smoky eyes to fantastic effect
Choose color palettes with a range of shades
Use the eye shadow application technique that best suits your eye shape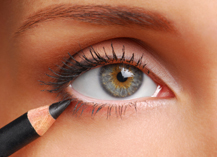 As the saying goes, the eyes are the window to your soul. They are also your most attractive facial feature, and the eyes draw instant attention from onlookers. If you aren't naturally blessed with large, beautiful eyes, don't worry. You can use some simple eye makeup tips to achieve this effect.
Remember though that to have beautiful eyes, they should be clear and healthy. Don't overdo it with eye makeup too often, since you can damage the skin around the eyes and cause eye irritation. It's important to remove heavy eye makeup when you get home to avoid clogged pores and other problems.
Eye Makeup Tips for Smoky Eyes
One of the most important eye makeup techniques is creating smoky eyes. This is actually easier to do than you might think, and is a great way to stun onlookers at your next evening event. Alluring and smoky eyes are a look that will work for just about any facial type or eye size, so you don't have to worry about it looking disastrous with your features. You simply can't go wrong with this technique.

To achieve smoky eyes, you'll need to have eye shadow in different shades of the color palette you have chosen. You'll want to have light, medium, and dark shades available, since the smoky eyes technique and others use shadowing and highlighting effects to achieve the desired look.
Start with a thin line of eyeliner on your upper eyelid, then apply eye shadow in a base shade. Blend well with a brush. Next, apply a darker shade above the eye, fading and blending from the lid to the brow.
Eye Shadow Tips
Applying eye shadow properly isn't always easy, especially if you're not accustomed to wearing eye makeup. Use these eye shadow tips for using eye makeup to suit your features: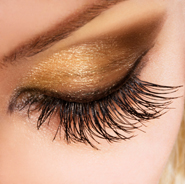 For small eyes, you'll want to add the illusion of volume. A darker color on the outer lid fading to a lighter color in the center can help achieve this effect.
For almond shaped eyes, try a medium color in the middle, and a darker shade at the outer edge. It's important to use just a little of the darker color. If you go overboard, it can look clownish.
For round eyes, try to create a bit of asymmetry instead of perfect circles. Use a light color eye shadow over the entire lid, and apply a darker color in the crease. Use eyeliner on the top and bottom lids, with mascara on the upper, outer lashes only.
These eye makeup tips can keep you looking fabulous, day and night. Just remember to experiment with different color combinations to see what works best for your skin tone, and keep your eyes and skin healthy by reserving heavy eye makeup for special occasions – and removing it properly when you get home.
Return from Eye Makeup Tips to Health and Beauty Tips