How to Plan a
Wedding on a Budget
There are many strategies for how to plan a wedding on a budget. Here are a few ways to cut costs so you can devote your cash to more important things: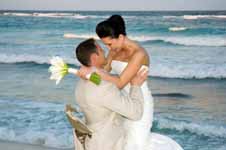 Determine your budget
Create a budget checklist
Do-it-yourself as much as possible
Take advantage of seasonal sales and discounts
Use the money you save on certain items so that you can splurge on the important ones
As you probably know, weddings can often cost into the tens of thousands of dollars, costing on average as much $30,000! Think for a minute about all the ways that you could use that money to start your new life with the person you love. You could purchase a car, make a down payment on a house, or just save it for your future life together. Fortunately, it is possible to figure out how to plan a wedding, even if you are adhering to a strict budget with a Wedding Budget Planner. In fact, if you rise to the challenge, it can be quite fun to go the budget route, figuring out the least expensive way to design a memorable and beautiful wedding.
Think about your wedding day, and how you will remember it in the years to come. What are the treasures that you'll take away from that day? Of course, you'll have each other. And there are material things that symbolize the pledge you'll be making, like your wedding gown and rings, along with photos and party favors to help you memorialize the occasion. Just because you're planning a wedding on the cheap doesn't mean you should skimp on these important details. You'll just need to be smart when it comes to getting what you want at a price you can afford.
How to plan a wedding begins and ends with money. You'll first start by creating a budget with the help of a Wedding Budget Planner. You'll need to know exactly how much money you're working with before you get started. If you don't plan ahead, it's too easy to let things get away from you, and before long you'll be spending money you don't have on things you didn't even know you needed! Dedicate money toward the things that will last about this day - choose rings that are meaningful to you, and a dress that you'll be proud to look at in pictures for years to come. Remember that the size of your wedding is the major factor in its cost, so keep things intimate, inviting only your closest friends and family.
One of the best tips on how to plan a wedding is timing your wedding. When you have your wedding can also influence the cost of services you purchase. Wedding photographers, cake makers, caterers, and others tend to offer discounts during the off season months of January through March, and November. Getting married at this time can save quite a bit of money.
When it comes to wedding attire, there's no reason that you must buy gowns for your bridal party specifically from a bridal shop. Buy off the rack, and go around prom time and right after the Christmas holidays. If you prefer a bridal shop, plan ahead to catch an annual or semi-annual sale. For delicate white or pastel colored shoes, shop during the summer. The key to getting the best deals is planning ahead.
Design your own decorations, favors and invitations by purchasing materials at your local craft store. In fact, you can even find a great selection of items at a dollar store. Glassware, floating candles, colored marbles, confetti, silk flowers??? The possibilities are endless, and you'll have fun putting it all together for a wedding that's uniquely you.
Also remember that the average couple spends the bulk of their wedding budget on food, including cake and alcohol - this can consume up to 40% of the total budget. Enlisting family members and friends to help cater the event can save you tons of money.

These are just a sampling of the strategies for how to plan a wedding on a budget. Just about anything can be a do-it-yourself project, from hair and makeup to flowers and photography. It's your special day, so you can splurge a bit. Cut corners and do what you can on your own so that you can free up more of your budget for that amazing videographer or the fabulous honeymoon. What's important are the memories you'll share with your family and friends and your new life with the person you love.
To make your wedding day even more amazing and a lot less stressful, be sure to check out the following pages for organizational tips and tricks on how to plan a wedding!
This wedding planning timeline will take you through everything you need to know about organizing and planning a wedding in a timely manner. Do yourself a favor... print it off, read it, and use it for a stress-free wedding planner.
Your big day has arrived and if you use this wedding day timeline to plan the events of your 'wedding day', you'll be guaranteed a lot less stress and hassle.
Use this list to develop and emergency kit to have on hand to avoid any last minute disasters on your wedding day.
Don't know what to register for? Use this wedding registry checklist and find out what you need to include on your wedding registry.
Return from How to Plan a Wedding to Easy Entertaining
Return from How to Plan a Wedding to Life Organize It