Makeup Tricks That Will
Help You Look Your Best
The way you look says a lot about you, so it's important to put your best face forward. These simple makeup tricks can help you look your best:
Choose colors appropriate for day or night wear
Hide blemishes subtly
Use the right foundation for your skin type
Choose colors that complement your hair and skin tone
Many women feel like they can't leave the house with a bare face. At a minimum, a woman usually puts on some foundation or a bit of powder before heading out the door. We all want to look and feel our best, and let's face it, women are expected to wear makeup.
We're expected to be perfect in every way – from the way we dress, to our hair, skin, and of course, makeup. Now, wanting to be beautiful doesn't mean we have to buy into society's idea of perfection, but there are some simple makeup secrets that you can learn to keep you looking your best. Even busy women can take the time to use these easy makeup tricks!
Makeup Color
Using color is a makeup trick that can make your look. During the day, it makes sense to opt for a more neutral or natural look. If you use too much color during the day time, you can begin to look a bit garish and out of place. You don't want to look like you're going to a glam party when you're at the office (how many of us have worked with women like this?), or even just running errands around town. A simple foundation and powder, and using one or two subtle colors of eye makeup can help you look fresh and renewed, without overdoing it for your daytime look. Save bold or multiple colors for a night out on the town. Here's a great eye makeup kit from Benefit that I use all the time.

It includes three neutral shades of eyeshadow 'pinks and browns' and even an under eye dark circle concealer.

Hide Blemishes and Under Eye Dark Circles
One of the most important makeup tricks is to hide your flaws without making them obvious. While this might seem like an oxymoron, it really isn't. If you cake on tons of powder and foundation to try to hide your flaws, sometimes you end up highlighting them even more. The key is a good concealer and subtle color blending so that the area you're trying to touch up doesn't stand out from the surrounding skin.
This concealer, Benefit Cosmetics Boi-Ing - Medium - 03 or Light/Medium - 02 by Benefit works wonders to hide not only blemishes, but under eye dark circles too.
To combat dark circles under your eyes, you also need to use a good eye cream. I like to use one of Rhonda Allison's eye products called Rhonda Allison Eye Lift.
This brightens up the eye area while moisturizing it too.
Use Products for Your Skin Type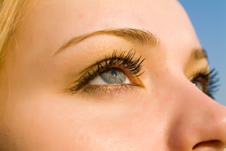 If you're fortunate enough not to have to deal with oily skin, then you'll have more choices when it comes to creams and foundations. But if you do have oily skin, you should use a cake foundation to eliminate a shiny face. Never use a lanolin based product, since this will exacerbate the problem. Another great technique is to use vanishing cream as an oily skin foundation.
Or, do what I do for my sometimes dry/oily combination skin and use a powder as a foundation. I like to use Benefit Cosmetics Get Even Pressed Powder - Light by Benefit.
This stuff goes on fast and really evens out my skin tone.
Another great foundation faker, which as I've entered my 40's is now my favorite is Jane Iredale PurePressed Base Pressed Mineral Powder SPF 20 - Warm Silk.
Jane Iredale's powder is actually good for your skin. When I first put it on it looks a bit chalky, but then the heat from my skin kind of melts it if you will and I end up with a soft dewy glow. I get more compliments on my skin now in my 40's than I did in my 20's and I attribute that to not only good skin care, but using good products such as those from Jane Iredale's line.
Hair Color
One of the makeup secrets that is most often overlooked is matching up your makeup to your skin and hair color. Picking colors is important so that your makeup doesn't clash with your natural color palette. For darker hair, consider a lipstick with orange undertones. Pink shades complement grey hair nicely, while deep reds accent golden brown hair. Avoid colors that clash with your skin tone or bring out an unnatural palor.
Now that you've got some solid techniques for how to apply makeup to your best advantage, there's simply no excuse for you to leave the house without looking your best. Remember that how you look says a lot to the world, so use these makeup tricks to put your best face forward!
Return from Makeup Tricks to Life Organize It